The decision to have cosmetic surgery should be made only after careful consideration. The final result should meet the preoperative expectations of both patient and surgeon. Dr. Denton has built his practice around the philosophy that each patient is an equal member of the decision-making team and that informed patients make good decisions.
The consultation will evaluate your areas of concern and work with you towards achieving your goals. Following analysis of your features, health and lifestyle, Dr. Denton will provide you with a highly individualized surgical plan and answer such questions as: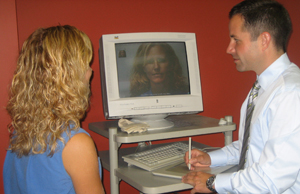 "How will I look after surgery?"
"Will I have scars or other marks from surgery?"
"When can I return to work?"
"What will it cost?"
No consultation charge applies to patients having Botox™ treatments or soft tissue filler injections.
Computer imaging is a modern tool that assists both patient and surgeon. After a high resolution digital photograph is downloaded to our imaging computer, the image is carefully modified to reflect the changes that are anticipated following surgery. Our system employs the most advanced imaging software available (United Imaging™) which is particularly useful for the individual considering facelift, rhinoplasty, chin implant, browlift or blepharoplasty (eyelid lift) surgery. The modified images are stored on our secure server and are reviewed with the patient on the day of surgery.
A computer workstation in the operating room allows the surgeon to view the photographs if necessary.